Installing window film can make your commercial space look like a whole new building. It can be brighter, more colorful, more classy, more subtle, more of a designer look. Since there are many style and quality options with decorative window film, your commercial space could end up with a whole new look.
Commercial window films have a wide variety of applications, from cutting glare, heat gain,, and energy costs, to giving you a fresh face or making your windows more secure—virtually burglar proof. Commercial window film is applicable to industrial buildings, office buildings, hospitals, mall stores, municipal buildings, museums, government buildings, hotels, restaurants, and street level storefronts.
If you are looking to save money on heating and cooling your commercial space, you could even choose one of our energy saving window films that gives the outside of your windows that modern, mirrored look so popular in today's high rises.
If you are looking to cut glare and add design at the same time, you might like a patterned decorative window film. This can give your windows the look of etched, painted, patterned, or even stained glass. If you are looking to give your commercial building a unique look that stands out and is noticed, that also has various practical benefits, decorative window films will fit the bill very nicely. They come in leaf patterns, abstract swirl patterns, Asian like bamboo patterns, and so many more.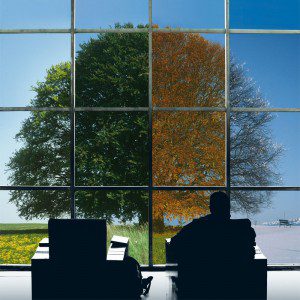 Call us to day for an appointment to see all the various decorative commercial window films available, and start imagining just how quickly you can give your building a whole new look.
If you want more privacy, commercial window film is definitely the way to go. A frosted, textured, or patterned look can produce the privacy you need for your tenants, customers, or staff, while still letting that all important natural lighting into your building.
When it comes to costs, we think you will be surprised at just how affordable an investment in commercial window films can be. They are easily installed with minimal or no interruption in your normal business functions, and will last a very long time.
By the way, did you know that window films can even add to the security of your building? If adding to the design and look of your building is not your main priority, but security is, ask us about our anti-shatter commercial window films. Let sunlight in, keep prowlers, burglars, and other mischief makers out!
Most building owners don't really think about their windows. They don't consider how much heat they are losing through the glass in the winter or how much heat gain they are picking up through the glass in the summer. They don't think about how much glare is making life uncomfortable for the people inside. They try not to think about how easy it might be for someone to break in through the windows. And they rarely consider that their windows could be an important design feature, giving a whole different look to the building.
Have you thought about the windows in your commercial building? Why not give us a call to discuss your commercial window film needs today!