When it comes to privacy window film, Dallas homes and businesses have found a wide variety of uses for this product. If you live in a high traffic area, such as one of Dallas' downtown neighborhoods, or have a ground floor business on a busy street, you already know how difficult it is to keep your privacy. The idea that people can, or perhaps are, looking in at you while you work or go about your life is disconcerting in the extreme. And in this era or eroding privacy, whether online or any other way, we want to preserve whatever privacy we can.
So with this in mind, you could put up blinds, shades, or even curtains that give you your much-desired privacy. However, then by gaining privacy you are also giving up the natural light into your home. Is there a way to have your cake and eat it too? Privacy window film, Dallas homeowners are finding, is an affordable and even stylish way to solve this problem. Privacy window film is available in several different options that will prevent people from peering into your home, while still allowing the natural light to enter your space. And we all love and need natural light, so that is truly an important consideration.
You might think you have never seen privacy window film. It certainly is not a term that's tossed around on a daily basis. But savvy Dallas businesses have been using this unique product for quite a while, so you have probably seen this product, in a variety of versions, without ever realizing what you were seeing or what it was called.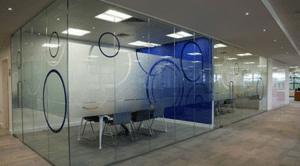 That's because the privacy window film Dallas offices and businesses are using can look exactly like frosted glass, etched glass, even stained glass. It can be white or colored, opaque or transparent, plain or patterned. It can be purely functional, or installed in a design that will actually add to your home's style and décor. And, this product is easily installed to the interior of your windows, requires no maintenance, and looks amazing.
Take a look at some of the styles of decorative and privacy window film Dallas homeowners or businesses can choose from by clicking here
With privacy window film, Dallas homes and offices can easily and affordably (and stylishly) have the best of both worlds: the privacy they are seeking along with the natural light of the sun entering the room.
If you would like more information about privacy window films or a quote, please contact Dallas Window Film today!