With commercial window tint, Denver businesses have access to a product line with a broad range of applications. Which one you'll choose for your business depends entirely upon your businesses or building's needs.
As one of the main window tinting (also known as window film) providers on the Front Range, we have seen firsthand the benefits a commercial establishment can get from one of our many products. We've installed different kinds of commercial window tint in Denver hotels, stores, offices, factories, hospitals, and even municipal buildings.
Let's take a look at the different kinds of commercial window tint Denver businesses can choose between.
1. Energy efficiency window film: this is our top seller and with good reason. This kind of window tinting can save you money on your heating and cooling bills for years to come. Find out more by clicking here.
2. Security window film: this product, once applied to your windows, will prevent them from being an easy access point for burglars or other mischief makers and criminals. The film actually holds the glass in place, in the frame, denying the vandal entrance and eliminating a messy and hazardous clean-up. Find out more by clicking here.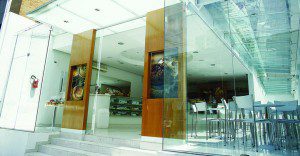 3. Glare or UV reduction window film: our products will block the sun's UV rays by 99 percent, keeping your interiors from fading and looking shabby. This can save you a lot of money over the years on new furnishings, and the glare reduction benefits mean staff can actually SEE their computer screens and keep working. Find out more by clicking here.
4. Privacy window film: this is a commercial window tint Denver businesses discover has multiple benefits. It can look like etched glass, frosted glass, or even stained glass. Depending on the style or pattern you choose, you can have the privacy you need and still let the natural light through. Or you can get a great style upgrade at the same time, since many of our privacy films are also decorative and all are easily applied or removed. Find out more by clicking here.
5. Anti-graffiti window film: simply peel it off, and the graffiti goes right with it. For those downtown neighborhoods filled with graffiti artists, this product can save you time, money, and aggravation. If only we could wrap your entire building! Find out more by clicking here.
If you are in charge of a public, government, or municipal building and you are worried about terrorist activity, we also sell bomb-blast window film that will keep your windows intact in the unwanted and unfortunate event of a bomb attack.
So as you can see, when it comes to commercial window tint Denver business owners have many options to choose from with many different effects and benefits. Which one would be the most useful for your commercial space? Why not give us a call today for a quote and to have any questions answered.