With the invention of commercial window film, Dallas businesses are able to solve a wide array of problems at a reasonable cost. Let's take a closer look.
Problems Solved by Commercial Window Film, Dallas Style
1. Outrageous energy costs. If you do have any kind of commercial space anywhere in the Dallas area, you already know how much of your utility bills go to pay for cooling costs. The climate is muggy, hot, and frequently unbearable. You simply have to pay for air conditioning, if you want to keep your employees and do business. For this problem, we would recommend energy efficiency window film. It blocks a percentage of the heat gain from the sun, saving you money on A.C. costs. And for the same money, it also blocks 99 percent of the sun's UV rays that can turn all the furnishings in your office shabby in no time, due to fading.
2. Graffiti attack. If this has ever happened to your business, you know what a pain the clean up can be. Loads of soapy water, scrubbing, elbow grease, and aggravation. For this problem, we recommend anti-graffiti window film. With this particular type of commercial window film, Dallas businesses save time and upset because once it's installed, it can be peeled right off. And any graffiti on your windows goes right along with it.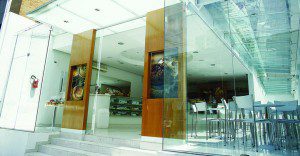 3. Burglary/vandalism/smash and grab. If your business is located in an area with a lot of crime, or even a small amount of crime, you have probably protected it already with some type of security system. The window film we would recommend will add to that system and protect your windows from being smashed. No burglar will be able to get through the glass with security window film installed. There is more than one type, so please ask us for more information.
4. Prying eyes. Lack of privacy can be a problem for certain types of businesses, even those that are not secretive government installations. If you'd like more privacy but don't want to cover the windows with shades or blinds that block the sun, we'd recommend privacy window film. Designed to look like etched or frosted glass and available in various colors and degrees of transparency, this is the commercial window film Dallas business owners turn to to get privacy at a great price.
5. Small advertising budget. If you have plate glass windows in the front of your business, why not take advantage of them to advertise your name, logo, or any kind of deal you currently have going on? With one of our decorative commercial window films, Dallas shop owners have an affordable and easily customizable way to make use of those big windows.
Eye catching for passersby and cars driving by alike!
What kind of problem do you have that might be solved by the installation of commercial window film, Dallas? Let's talk!