With the quick and affordable installation of restaurant window film, Dallas eateries can give their customers a better experience . . . and perhaps even save some money.
We've all had the experience of sitting in a restaurant and having the sun glare in our eyes. Perhaps we've asked for a different table, or taken a different chair. Perhaps we've pulled down a shade, but weren't really happy with that option because it blocked the light and the view.
The problem of glare is particularly annoying these days, when even diners in restaurants want to be checking their phones or playing with their tablets, and the glare makes that difficult, if not impossible.
With glare reduction restaurant window film, Dallas restauranteurs can solve all these issues for their customers in one fell swoop. Installed to the insides of your windows, this film will cut the glare and let your customers truly enjoy their experience without squinting, wearing sunglasses indoors, shuffling chairs, or asking for a different table. They'll never miss any of that experience, and the lack of glare will allow them to focus on your fantastic food, ambiance, and their dining companions.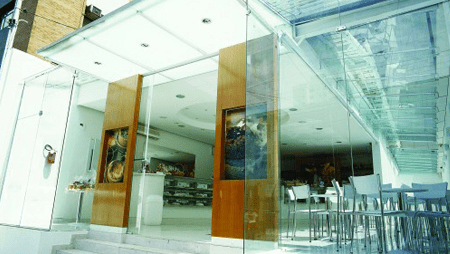 Here's another type of restaurant window film Dallas business owners will appreciate: Privacy films. Perhaps you've tried to give your expensive eatery an exclusive ambiance, but that big plate glass window in front foils your wishes, allowing everyone who passes by to see inside. With privacy window film, you can still let in some natural light, but block the prying eyes of people on the street.
When it comes to restaurant window film, Dallas diners are not the only ones who can benefit. You restaurant owners have high overheads, from your rents to your payrolls and the cost of food and utilities. We might be able to help you with the utilities part, particularly heating and cooling bills. We sell a line of energy efficiency window films that can cut down on heating and cooling costs, keeping your customers more comfortable and saving you money.
Which restaurant window film might solve a problem for your Dallas eatery? Glare protection, privacy, energy saving, or perhaps one of our security window films, or anti-graffiti window films?
If you are considering the installation of some kind of restaurant window film, Dallas or the outlying areas, why not give us a call? We'd be happy to answer any questions, give you more information about any of our high-performance products, and offer a competitive quote. Please contact Dallas Window Film today.