Why would you ever want to put window film in your retail space? After all, your front windows are one of the ways you attract customers with your fabulous window displays. Let's see if we can't answer that question and give you a bunch of ideas for how window film could work for you.
With retail window film, Dallas shop owners can do a variety of useful things. The first one could be saving money on energy. With energy efficiency window film, your potential customers will still be able to see into your shop and admire your merchandise. They can still be tempted to enter the store, because this type of window film is transparent. But you can save money on the heat that will no longer escape through that massive plate glass window in the winter. And you can save money on the air conditioning you might not need as much of, when the film blocks heat gain all throughout Dallas's sweltering summers.
With security retail window film, Dallas shop owners have an affordable and highly practical way to add to their store's security. Also known as loss prevention window film, this product contains a heavy duty polyester mesh that will thwart smash and grab type robberies. It works by thwarting the smash part of the equation. Almost imperceptible after application, the security window film nevertheless resists smashing, and even if the window glass is shattered it will remain intact in the window frame. Too bad for you, would be burglars! You'll have to give up and find another retail store with no security window film.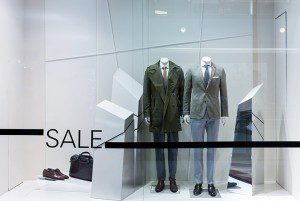 With decorative retail window film, Dallas retail store owners have yet another opportunity. This type of film can be customized to present an advertising message to your clients, turning your front windows into a billboard. What message would you like to give? You can advertise a sale, a new owner, new hours, a new line of products, whatever message you like. Of course, decorative window film can also be used purely for decorative purposes as its name suggests. Do you want to add some color, texture, pattern, or the look of etched or stained glass to any glass surface in your retail space? This is the perfect product to give your shop a whole new look for less.
With anti-graffiti window film, Dallas shop owners can have the last laugh over so called graffiti "artists" who are defacing your property. Applied to the windows' exterior, if they are hit with any type of graffiti, you can have the window film removed, instantly taking the offending graffiti with it. Then have a fresh film installed and you're good to go!
For more information or a quote on retail window film, Dallas or the surrounding areas, please contact us today.