These days, the market is filled with all sorts of high-performing window film products. Energy saving window films, security window films, privacy window films, decorative window films. But any window film is only as good as its installation. For expert window film installation, Dallas customers know to call us.
Our installers are highly experienced, and know how to install the film so it creates the correct bond with the window. With a good window film installation, you should never see any bumps, wrinkles or bubbles. The film should cover the glass from edge to edge, no missing corners. Some of our energy saving window film products even cut glare and create greater optical clarity than the plain old window panes had before, making your view even more beautiful than it was. You do not want that marred by inexpert installation.
With the proper window film installation, Dallas clients can be sure that their film will provide the benefits they expect for many years to come, maintenance free. Here at Dallas Window Film, we are proud to offer window film products from three of the industry leaders: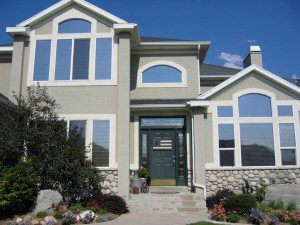 Llumar: maker of unique films including anti-graffiti window films, security window films, and a beautiful line of decorative window films for both commercial and residential use.
Vista: the front runner in luxury home window films.
Enerlogic: their high-tech and high-energy energy saving window films have created a revolution in the industry.
For the top products and the top window film installation, Dallas residents are encouraged to call us today. We are happy to answer any questions about the different types of window films we have available, as well as recommend the one that might be perfect for your needs. They are priced by the square foot. We can give you a bid, which includes our expert installation. It takes our installers approximately twenty minutes to install window film to an average size window. The process is quick and leaves you with no mess, just great looking windows that will now do what you want them to do: whether that is saving you money on heating and cooling bills, adding a dose of chic style, or protecting your windows from a smash and grab attempt.
By the way, along with window film installation Dallas Window Film has already mentioned, we also have UV protection window films, loss prevention window films, and even a bomb blast window film that is perfect for energy labs, government installations, and anywhere else that might come under threat of an explosion. (Did you know that in the event of a bomb or other internal explosion, many of the fatalities are caused by flying shards of glass? The bomb blast window film saves lives by preventing the glass from becoming projectiles, and keeping it in the window frames.)
For more information about our line of window films or window film installation, Dallas or any of the surrounding areas, please contact us today.