Do you have problems with glare? Although the sun hasn't changed in billions of years, our technology is changing pretty rapidly. So the sun's glare, which might have been just an occasional minor annoyance years ago, can now be a major headache. But with glare reduction window film, Dallas residents have a practical, effective, and affordable solution to the problem of glare.
But what exactly is the problem with glare?
Did you ever try to watch the game on your new flatscreen, only to find yourself running around the room pulling drapes and shades and curtains because the glare makes it impossible to see a thing?
Did you ever wish you could curl up in that comfy chair near the window and catch up on correspondence with your laptop, tablet, or phone, only to find that the glare is so bad you cannot see what you are looking at?
Did you ever work somewhere where the glare on your monitor made it hard for you to do your work?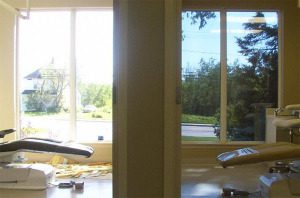 Did you know that glare can cause eyes strain, headaches, and worse? But with glare reduction window film, Dallas citizens solve all these problems with one convenient product. Leave your curtains open, enjoy the light, and still see your television or any other electronics screen. And this type of window film product has other benefits as well.
With one of our glare reduction window films, Dallas interiors also get the benefit of a 99 percent UV block. These high tech, high performance window films block the UV rays of the sun that cause fading to flooring, upholstery, furniture, wood finishes, art work, and so much more. Why let your expensive furnishings fade before their time? Why spend the money on replacing things you loved, because the sun has turned them shabby? Think of this window film as a pair of sunglasses for your own home, office, or other commercial space.
As you can see, with glare reduction window films, Dallas home and business owners can ease eye strain and save their interiors. But as they say on TV infomercials, "But wait! There's more."
Many of our energy efficiency window films reduce glare and block UV rays, killing three big birds with one stone. Save money on your heating and cooling bills, save your eye sight and your nerves, save your furnishings . . . how can you turn it down?
For more information about glare reduction window film, Dallas or anywhere in the surrounding metropolitan/suburban/rural areas, please give us a call. We're happy to answer any questions or offer a quote for a glare reduction window film project.