What are some of the advantages of paint protection car window film? Many people would love to find some way of preventing or slowing their car's depreciation. After all, unless they have purchased a beater, a car is a significant investment. It is annoying that it starts to depreciate the second the owner starts to drive it, but that's the way it is.
The fact is, vehicles do depreciate and there isn't much that can be done about it. However, keeping the vehicle in good repair, giving it the required maintenance, keeping the interior clean and in good shape, all of these things will help with the resale value to the car or truck. And so will keeping the paint finish in great shape, without a lot of scratches and dings or chips. Nothing makes a car look less valuable more quickly than a ruined finish. With car window film, you can protect that finish from a wide array of driving hazards.
Who hasn't winced when driving along and hearing something fly up off the road and hit the hood, the sides, the windshield, even the underside of the vehicle? Don't you have the urge to immediately pull over and see just what damage might have been done to your car and where that damage might be? We do. That's one of the reasons paint protection car window film is such a great idea: flying debris. This can be kicked up by your own wheels or by the wheels of the vehicle in front of you or passing you, but in any case, this type of flying projectile is a threat to keeping a beautiful glossy paint finish. That is for sure.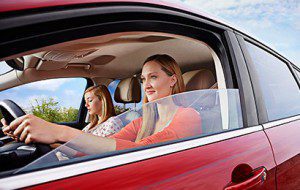 And what if some of this debris actually causes a chip in your paint's finish? That leaves the underlying metal exposed and susceptible to rust. And it looks pretty awful. You certainly don't want to leave it chipped but you also don't want to have to put in an insurance claim. Nip this problem in the bud with a high performance urethane car window film. You know what they say about an ounce of prevention . . .
This same type of car window film can also protect your car's finish from the dulling and eroding effects of any chemicals on the road, or the abrasive and corrosive salt or sand that some governments use in the winter after it snows. All of these things can take a very serious toll on the look of your vehicle's once shining finish.
For more information about paint protection car window film, please contact us today. We can answer any questions or offer you a quote for a car window film job.