What Window Tint Percentage Is Right For My Dallas Home?
We have been in the window film business for nearly a decade and in that time we have an excellent track record for working with customers, both commercial and residential, to achieve the best results on their window tint projects for their home or business. As such, we have answered numerous question in our consultations to help customers decided which product is best for them. One question we frequently hear, that we decided to address today is: "What's the appropriate percentage of window tint for my Dallas home?" This question sounds deceptively easy–it is not. How much tint your apply to your home's windows is actually decided by you, the customer, and is influenced by these three factors.
Budget: Window Tint is not all created equal. Some tints block more light, others let more in, some films redirect light, some film block it almost completely. Since they also differ in efficacy and technology, tints also differ greatly in price. Our suggestion is–buy the best film for your residential or commercial project that you can comfortably afford.
Personal Preference: Some people don't mind losing a little light to gain a bit of privacy or get the glare out of their face. Others simply want their windows to look good from the outside. When choosing window tint products or percentage, it is important to take into consideration your personal end goals and choose the window tinting product with a visual light transmission percentage that works for you.
Desired VLT: Once you have established a baseline for what you can afford vs. what you like vs. what you need, it is important to talk to a window tint contractor, like Dallas Window Film, to have them show you options for Visual Light Transmission percentage that best fits what effect you are looking for.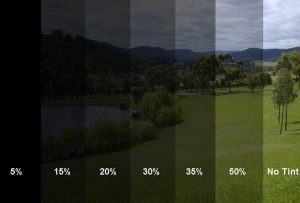 Typically we see a range of 25-45 percent for homes–darker tint means less heat but also less light transmission. Other factors for determining VLT percentage include:
-The type of windows are being coated? (i.e. double paned, tempered, annealed, laminated)
-The primary reason for window tinting?(i.e. tint for privacy will have a higher VLT percentage)
-Restrictions on glass coating or window tinting (i.e. HOA or Condo Association rules)
Let Dallas Window Film Help Your Decide The Right VTL Percentage
Since there are so many factors in making a decision on window tinting, as we said, it is important to consult with an expert like us. We know how to guide clients through a decision-making process and how to help them flush out what really matters most to them. This consultative approach helps us find them the best product for their home or business at the right price. To get more information on VLT percentages or to schedule a free in-home estimate, contact Dallas Window Film today.