Creating the right appearance for your office is crucial for setting a tone of professionalism. It's important that when your clients, current and potential, walk into your office, they develop a positive impression of your business and brand. Using decorative and branding window film is a great way to enhance the look of your Dallas office.
Decorative window films are incredibly versatile and easy to use. They can be applied to nearly any flat surface, including windows, walls, glass separators, and tabletops or other office furniture. You can either order a pre-made design such as a frosted or patterned film or have one custom printed with your business name or logo. Just contact your local window tinting contractor and set a time for the installation.
Uses for Decorative & Branding Window Film
Many office managers and owners find that decorative window film is extremely useful. Decorative window film can be used for a whole variety of purposes. You can create custom signage for your entrance, add a colorful decal to your break room area, or add an inspirational message to your conference room. Or you can use it for something more practical, like creating privacy for restroom or locker areas. How you use your decorative window film is completely up to you. You may find it helpful to do a walk through of your office, make a list of some decorative or architectural issues you need to accomplish, and then discuss the items you write down with your window tinting project manager.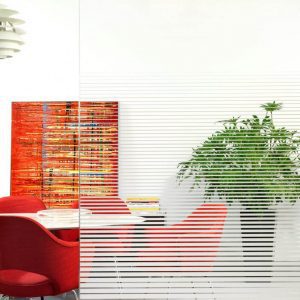 Popular Decorative Window Film Styles
The great thing about decorative window film is that there's a style for almost every office, no matter the existing decor or architectural appearance. There are hundreds of different styles of decorative window film. Some of the most popular choices for office spaces include:
-Frosted window film
-HDClear Graphics Film
-Patterned and textured film
-Dichroic window film
-Branded window film
Explore Decorative Window Films
Start planning your office renovations today. Call Dallas Window Film to explore decorative and branding window films for your Dallas office.