In Dallas, the weather can really take a toll on the exterior of a building. Summer temperatures often reach the triple digits in the Dallas area, with the highest recorded temperature being 112 degrees. All of this heat and sun can wear down the exterior surface of your building and create major issues with energy efficiency.
And the heavy rainfall that occurs in May and the rest of spring doesn't help improve the situation either. Severe storms can sweep up tiny grains of sand and debris that cause exterior glass to chip and crack. Over time, the condition of glass worsens and windows cease to function to their full potential.
But replacing all of your windows is a huge project, and one that requires both a lot of time and money. That's where exterior window film can help. By installing exterior window film, you can make your Dallas office, hotel, or building more energy efficient and modern-looking and affordably conceal cracks and imperfections in glass.
How Exterior Window Film Works
Exterior window film works similarly to most architectural films except in one regard: instead of being installed on the interior of a building, exterior window film is adhered to glass on the outside. There are many advantages to this. For one, exterior films are extremely energy efficient since they create a barrier that prevents the sun's light from ever touching the glass. Additionally, the films also conceal blemishes on the exterior of a building, like cracks and chips in window panes.
Another benefit of installing window film on the exterior is that you can easily alter the appearance of your building to make it look more modern. You can install a sleek, modern reflective film to give your property a sophisticated, classic look. Or you can opt for something more contemporary, like a colorful window film or building wrap that makes your space look ultra stylish.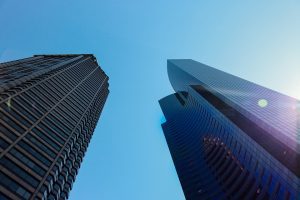 Applications for Exterior Window Film in Dallas
Exterior window film is extremely useful for applications where installing a traditional window film would be difficult, including windows that are high up or hard to reach. Some of the types of buildings we commonly install exterior window film in Dallas include:
–Hotels and high rises
-Office buildings
-Arenas and stadiums
-Airports
-Museums and more
Schedule a Free Consultation
Discuss your architectural needs with a professional. Call our office today to learn more about exterior window film for your Dallas property or schedule a free onsite consultation.