Graffiti can be extremely frustrating to deal with as a business owner. You've invested a lot of time, money, and effort into making your business successful. So when someone does something as careless as vandalize the bathroom in your building or write gang signs on your elevator, it causes you to feel upset and disturbed.
But even worse than the unsightliness of the physical damage itself is the cost of repairs. It's expensive to have to call out an elevator repair company, invest in a new stainless steel appliance, or replace the scratched metal partition in your restroom. But what else are you supposed to do? You can't just leave the damage alone or you risk your reputation.
But before you make the call to the repair company, you may want to consider another option. By installing anti graffiti window film for your Dallas property, you can discreetly conceal vandalism and other damages and save tons of money on metal restoration.
Using Anti Graffiti Window Film for Metal Restoration Anti graffiti films are a relatively new technology, but are quickly becoming popular and more widely known. This is mainly due to the fact that they are extremely affordable. Anti graffiti films can be used to cover up small dents, scratches, and wear on metal surfaces, offering a more affordable alternative to metal restoration.
The film is simply matched with the surface, whether it's stainless steel, aluminum, or some other type of metal, and then cut to size. Then, the installation site is carefully cleaned and the film is adhered on top. Once installed, it's practically impossible to notice that it's there and it can only be removed by a professional so you don't have to worry about it being tampered with by the public.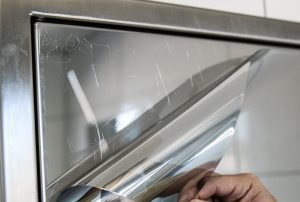 Applications for Metal Shield Window Films
Metal Shield Window Films can be custom ordered in nearly any size or shape so that they perfectly fit virtually any area. While this list is not exhaustive, some of the most common applications for Metal Shield window films that we've seen are:
-Public transportation systems
-Metal handrails and stairs
-Escalators and elevators
-Restroom stall partitions
-Metal window frames and mirror frames
-Display cases, metal signs, and maps
Learn More About Metal Restoration Film
Curious to know more? Give us a call! We would be more than happy to chat with you about your metal restoration project or provide you with an estimate on anti graffiti window film for your Dallas property.