Stress levels are at an all time high in Dallas. As COVID-19 continues to spread, many of us are becoming uncertain of what the future holds. Because of this uncertainty, safety has become the number 1 concern for our Dallas community. With many essential businesses remaining open, and other business looking to revert to full-time operation, business owners/ operators are doing their best to maintain safety standards. Unfortunately, without the proper tools, it can be nearly impossible to provide a safe business operation. This could result in cultivating safety hazards and exposing your business to future liability. We are here to show you how all of this can be avoided at a low cost. Social distancing graphics can help business employ warnings and mandated safety procedures, resulting in a safe environment and limiting liability.
How Social Distancing Graphics Give Your Dallas Business an Advantage
3M Social distancing graphics are one of the most cost effective ways to comply with up-coming, mandated safety procedures and keep your community safe. Our Graphics are completely customizable to meet your exact needs and are versatile in their application. Apply these graphics to virtually any smooth surface, including entry ways, doors, windows, mirrors, bathrooms, concrete floors, carpet and so much more. These graphics are incredibly durable, while also being easily removable by our professional installation team. Whether you want to remind customers and employees of social distancing, or add some humorous images to your store, we can custom print and design it for you.
Ideal for Hand Washing Reminders:

Directional Aisle Graphics:
Clearly direct foot traffic throughout your store while also reminding everyone of social distancing:
Check-Out Line Graphics:
Clearly designate appropriate distances for waiting in lines.
Door Graphics:
Implement warning signs, mandatory mask areas and so much more: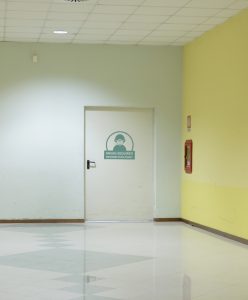 Have Your Local Trusted Surface Graphic Experts Work For You.
Dallas Window Film is proudly providing free virtual consultations, and is operating during normal business hours. We would love to provide your Dallas Business with a tailored solution to limit liability and provide a safe experience for your employees and customers.
For more information on social distancing surface graphics, please contact us!