DALLAS WINDOW FILM INSTALLATION
The window film installation process requires some skill to make sure there's no bubbling in the film, the window frames integrity isn't compromised, and to maintain your warranty. That's why all our installers are experts in their field. Dallas Window Film installs are backed by a lifetime warranty, not only from our company but also from Eastman the manufacturer.
Changes in the weather can cause window film to warp, bubble, crack, and fade if it wasn't installed properly. Our installations ensure you will receive the benefits you expect from your window film.
All our installers at Dallas Window Film have at least 8 years' experience installing window film. This way you know you are getting the best possible installation around. Insuring you feel confident with the contractor that installs your film is one of the steps in our process of building great relationships with our window film clients.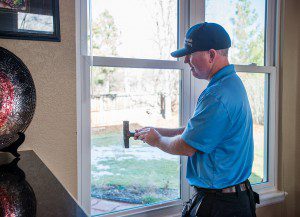 INSTALLING EASTMAN WINDOW FILM
Eastman's bonding process incorporates creating a bond to the glass on a molecular level. This differs from other window films that use an adhesive. If this bond isn't done correctly it could cause several problems for the window film. That's why it's important for expertly trained installers to be a part of this bonding process.
A finished window film installation should be invisible. Meaning that the window film should look like it is a part of the glass. Our installers are experts at making sure your film doesn't bubble, and completely covers your windows to the edges. This will make sure your window film will stay looking its best for years to come.
At Dallas Window Film we know that your home is probably your biggest investment. Since installing window film is like adding another pane of glass to your windows, we want to make sure the process is as smooth as possible. This way we can ensure your windows are protected from the elements and you are happy with the process.
If you have more questions about any of our window films, you can give us a call to speak with one of our window film experts. If you are ready for some window film to be installed in your home, or would like a free on-site consultation, don't hesitate to contact us today.