Dallas Window Film Installation Services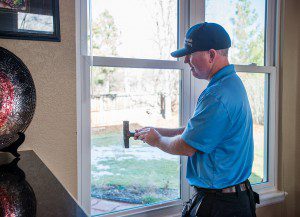 Dallas Window Film is proud to be Dallas' premier window film installation company. We've been supplying and installing window tinting solutions for Dallas home and business owners since 2008. We use high quality products and modern industry techniques to provide our clients with exceptional results every time.
Our Installation Process
Over the past several years, we've worked hard to perfect our window film installation process to provide our clients with the best experience possible. Through these practiced methods, we are able to install window film that has a crystal clear appearance and provides incredible energy saving and security benefits. Our unique window film installation process generally follows these steps:
A) On site consultation: We meet with you at your home or business to conduct some preliminary work. At this time, we will discuss your goals for the project, take site measurements, and conduct an inspection of the building. We will also arrange an appointment for your installation that is convenient for your schedule. We are more than happy to schedule an appointment during off hours if necessary.
B) Application: Next, we prepare for the installation by pre-cutting all of the window film using a plotter. This helps to expedite the installation process and reduces product waste. When we arrive at the site, we will clean all the windows to ensure proper application. Next, we prime the glass using C-Bond and apply the film.
C) Final touches: After the film has been applied, we squeegee out the C-Bond adhesive.* Then, we clean up the edges of the windows and inspect them to make sure that there are no imperfections in the film or glass. Last, we wait about 24-72 hours for the adhesive to fully set and for the project to be completed.**
**Please note, for projects that are not applied with C-Bond, it may take up to four weeks for the film to achieve full clarity and adhesion. In certain cases that involve well-shaded areas or interior rooms that lack sunlight, there can be adhesion problems when C-Bond is not used for the installation.
*This step does not apply to projects that do not involve C-Bond primer.

Why We Use C-Bond
At Dallas Window Film, we're always looking for ways to improve our processes. That's why we use C-Bond for almost every project. Traditional methods of installing film involve using soap and water to prime the windows but this does nothing to enhance the structure of the glass itself. C-Bond works to enhance the molecular structure of glass for increased strength and security. We use C-Bond because it has the ability to:
Increase glass strength by at least 100%
Reduce risk of breakage from thermal expansion
Protect against hazards such as hail, golf balls, and flying rocks
Decrease the drying time for window film products
Make glass clearer in a shorter amount of time after the film is installed
More About C-Bond Systems
Recent scientific studies show that C-Bond Systems can greatly enhance glass strength and increase resistance to shattering. That's why we use C-Bond I for almost every general window film application. This is different than C-Bond II which uses a system of multiple layers of film and adhesive to create an extremely high level of defense. If you're interesting in learning more about the ballistic resistance of C-Bond II, please check out our C-Bond products page.
Need Window Film Installation Services in Dallas?
We can help! We offer reliable professional window film installation services for Dallas and the surrounding area. Call Dallas Window Film to schedule an appointment today.