When it comes to your business, you can't afford to put your reputation on the line. When your reputation suffers, so do your sales. And nothing ruins a guest's or client's opinion faster than a damaged elevator. No one wants to use an elevator that's marked up and covered in paint or scratches. It looks unmaintained and unsafe.
Fortunately, we at Dallas Window Film have a simple solution for elevator damage. Our window films offer a quick and affordable way to accomplish elevator restoration for your Dallas retail store, office, or hotel. Dents and marks vanish instantly and you save money on what would have been costly repairs.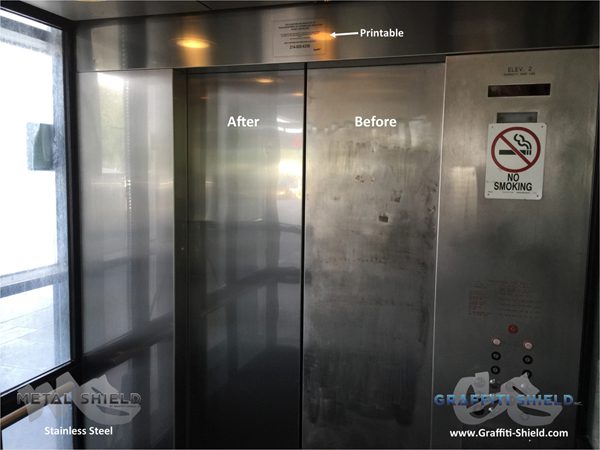 Window Film: Fast, Affordable Elevator Restoration in Dallas
Many people don't realize that window films offer a solution not elevator restoration in Dallas, but they're actually one of the fastest, most cost effective methods for metal restoration. Sure, you can contact a professional graffiti removal company, but do you really want to fork out that kind of money?
Instead, contact our professionals at Dallas Window Film for affordable elevator restoration in the Dallas metro. We'll send out one of our expert repair technicians to assess the damage and get your elevator repaired quickly using our highest quality surface films.
Can Window Film Really Fix My Elevator?
Window film by no means is a miracle cure. If you've got serious issues with your elevator, like mechanical misfunctions, you'll need to contact the right people. But if you're looking for a way to get rid of surface damage like scratches, markings, or paint, then the answer is yes! Surface window film can cover up all kinds of elevator damages and make even the most badly destroyed elevator look brand new!
Learn more: Graffiti-Shield-Elevator-Restoration-Dallas
Get a Quote on Elevator Restoration in Dallas
Get your elevator repairs done by the experts! Contact Dallas Window Film to schedule elevator restoration in Dallas today!