Window Film Pricing In Dallas
Home ownership is likely one of the most rewarding and expensive experiences you will ever have in your life.  Which is why, at Dallas Window Film, we know that when it comes to making the decision to buy window film, a major question for a Dallas home or commercial property is always–how much will it cost?  Without knowing at least a little bit about the costs associated with window tinting for your home or business, there is no way, even on a basic level, to calculate a rough ROI.  That is why we have put together a basic guide to film pricing for your home's windows.  The initial step in determining what type of film is right for you is figuring out what problems you are looking for window film to solve.
Common Window Related Problems We Hear Are:
Too Much Glare On My Home's Windows
My Furniture, Floors Or Artwork Are Fading
I Want My Home To Be Safer/More Secure
My Home Is Too Hot or Too Cold
My Utility Bills Are Too High
I Need More Privacy In My Home

You may be considering window film on your home to solve one or many of these same problems.  Figuring out how many of these issues to solve and to what degree, is key in choosing the right film for your individual job. With that in mind, there are 3 factors that are key to window film pricing.
1.The Cost Of The Film
Spectrally Selective Films: $9-18 per square foot
These films can be simply dyed or, the higher quality ones can have numerous coating combinations of metals, ceramics, and dyes.   These are for homeowners who wants to reduce utility bills, stop fading or heat and cold exchange.  More premium films are nearly clear and the most expensive and are great for homes with a view that you want to stay crystal clear.

Low E films: $20-$25+ per square foot
These films do everything a spectrally selective film does but, also keep heat inside in the winter by reflecting the heat back into the room. They are very high quality and made from the high-end materials such as gold, which is why they cost significantly more.
Security films: $8-16 per square foot 
The basic security film keeps glass in place in the event of blunt force on your windows; as such, it is a great way to beef up your home's security.   It also protects from flying debris in the case of a natural disaster like a tornado.  When an object strikes the glass on your home with enough force to break the window, it will shatter but stay in place.  This means no flying glass to hurt you and your family or, in the case of a burglar, will still have no way to enter your home.
* An attachment system is often required around the edges of security window film. This ensures that when the glass breaks the film stays attached to the frame around the edges.  The  price of an attachment system for security window film will be $2-5 per linear foot
Bullet Resistant Films: $125+ per square foot
Although the term "bulletproof" is regularly used, no glass is truly bulletproof.  However, treated correctly, the glass on your home can be highly bullet resistant- keeping glass intact and intruders out even after numerous gunshots are fired into your windows.  This type of security glass is available as a package deal including window replacement, treatment with C Bond and window film application
* An attachment system is often required around the edges of security window film. This ensures that when the glass breaks the film stays attached to the frame around the edges.  The  price of an attachment system for security window film will be $2-5 per linear foot
Privacy Or Decorative Film: $6-$12 per square foot
A normal home privacy coating will easily fall into this price range and accomplish all the home visual protection you need. However, custom options can range higher depending on the graphics and will normally be added on at an hourly rate to the base price.
2. The Size And Scope Of The Job
Pricing for residential homes is based on the size of the home, the number of windows and the ease or difficulty of installation.  Since our pricing is based on square footage, the more windows you have on your home, the more tinting will cost.  Other factors that affect the cost of window film for your home are:
Location of Windows: Windows that are higher up take longer to install film on.
Size and Shape of Windows: For example, windows made up of smaller French Panes require a premium charge (about $1 extra per pane).
The Job Site Conditions: For instance, if a client requires furniture to be removed or blind taken down then the extra charges will apply for time.
3. The Quality And Warranty Of The Installation
The old saying– "You pay for what you get" absolutely applies to window film.  A homeowner can expect to pay different prices for the same film from different companies based on the level of customer service they demand or expect.  A reputable company, with dedicated project managers and a stellar reputation, who shows up on time, communicates effectively and gets the job done within budget will usually run $2-$3 p/sqft more than a budget installer.  However, with a "budget" installer, you actually run the risk of paying more over time in the form of frustration, miscommunication and most importantly, improperly installed window film that chips, peels or cracks and does not qualify for the manufacturer's warranty.  This is because, the more expensive films, by higher end manufacturers, tend to carry longer, more inclusive warranties BUT they must be installed by brand certified technician to qualify.
Window Film Experts In Dallas
We try to make our pricing as straightforward as possible at Dallas Window Film.  We understand how important budgeting is to the average consumer, so we make sure to thoroughly document our costs and outline them for our potential clients.  We assign a dedicated project manager to walk you through the window film estimate for your home.  Your window film expert will take a consultative approach in which they:
Listen carefully to your problems and ask questions to be sure they fully understand your home's unique set of problems

Use their expertise and knowledge to sort through our hundreds of window film options and come up with the best solution to meet your commercial needs. Often this involves testing the existing glass for levels of heat/ light penetration, UV etc.

Fully explain why they chose the particular film selected and how it factors into the estimate.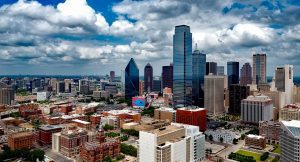 There is a reason why we have had such amazing success in the window film field over the last decade–customer service. It is this dedication to customer care that drives every interaction we have with you, from your first call, until the last installer leaves your house. When you buy with Dallas Window Film, you buy more than just window film, you buy peace of mind.  
Contact us today with any questions you may have about pricing and to schedule a free, on-site, estimate with one of our window film experts and see first-hand the difference experience makes!