With expert window film installation, Dallas customers can just kick back and enjoy the benefits their new window film provides. Those benefits range from lowering energy costs to adding more security to adding privacy or a dose of fresh color and style.
Your windows should look great after window film installation, Dallas. There should never be any bubbles, wrinkles, loose corners, or dirt between the window glass and the film. We are proud to offer a full line of window film products from the top industry leaders including Llumar, Vista, and Enerlogic. Different types of films require different types of installation. For instance, an energy efficiency window film will be installed to the interior of the glass, whereas an anti-graffiti window film will be installed to the exterior of the glass.
With our fifteen years' experience in the window tinting and window film business, we have installed every imaginable type of window film in buildings both residential and commercial. This includes homes, offices, hospitals, hotels, malls, shops, salons, high rises, and all sorts of other buildings. We know that a window film is only as good as its installation.
With proper window film installation, Dallas home and business owners will have a product that looks great, requires no maintenance, and simply does its job day after day. Whether that job is ensuring the window doesn't shatter, keeps out prying eyes, or just looks stylish and fantastic.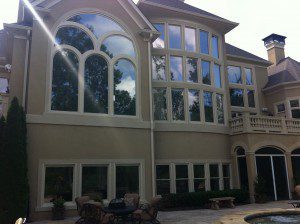 Window film installation, Dallas businesses know, makes all the difference, especially when the film is there to add beauty, color, or an instant pop of style or texture. By the way, if you'd like to take a look at some of these unique decorative window films and play with our virtual window film viewer, click here.
Our installers are experienced with all the different types of films on the market and the best practices for installation of each one. With window film installation by Dallas Window Film, your job will be done quickly, efficiently, right the first time, and we will be out of your hair with as little disruption to your normal routine and business as possible.
Here at Dallas Window Film, your satisfaction is our highest priority. That is why we carry the top lines of window tints and window films and work only with experienced installers.
For more information about our line of products or our window film installation, Dallas or anywhere in the metro area and outlying suburbs, please give us a call. Or reach us through our convenient online contact form for a quote or bid on a window film job.