With store front window film, Dallas shop owners can get some excellent benefits that they might just be currently unaware of.
Let's start with the ability to use your shop's front facing plate glass window or windows as an advertising tool. With the installation of a custom store front window film, Dallas stores, salons, spas, and retail locations of all kinds can take full advantage of this prime space.
Of course, your front windows are seen by passersby in a mall or on the street, and they are also noticed by cars going by on the streets as well. This provides a great opportunity for advertising in those windows. Perhaps you already hang signs in your windows notifying customers and potential customers of any sales, new lines, changes in hours or new management, the addition of a new stylist, or any other message you'd like to offer. But with our custom store front window film, Dallas shops can have a truly classy way to present this advertising message.
Here's how it all works: You will need to send us a digital file containing the message or logo or design you want added to your windows. We'll also need the exact dimensions of the pane of glass this window film will be installed in. We will insert your message into one of our high-quality decorative window films, one that has the look of expensive frosted or etched glass.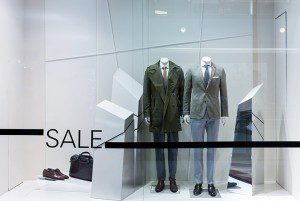 Once installed, your windows will be eye-catching and classy, as opposed to that paper sign hand lettered with a Sharpie! With this type of store front window film, Dallas shopkeepers can have the film removed at any time, to go back to having a plain window or to have a new, different film installed.
But let's say you don't really want to use your windows for advertising purposes. What if you run a high-end designer shop and you'd like to afford your patrons some high-end privacy. With a privacy store front window film, Dallas retail locations can add that privacy, or add a dose of style, color, and uniqueness to any window, large or small.
For more information about store front window film, Dallas or anywhere in the Dallas/ Fort Worth metropolitan area, or to receive a quote for a window film project, we hope you will give us a call. You can also contact us via our convenient online contact form. Please let us know exactly what you are looking for and how we can help. Dallas Window Film offers a full line of high-performance window films including energy efficiency window film, anti-graffiti window film, security and loss prevention window film, decorative window film, and others.